Shubi came to Lighthouse at the age of 77.  As is the custom here, he had two wives and five children, and he was the main provider for them all.  He lost his job a year before coming, due to his vision loss.  Thankfully, a friend had seen a Lighthouse advertisement poster and told Shubi of the hope we offer.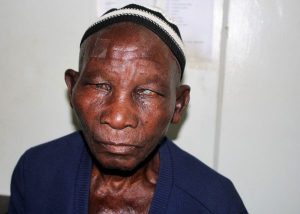 While his scarred left eye was beyond help, his right eye cataract surgery was a success.  But even better, while he was here our Chaplain introduced Shubi to Jesus.  When we visited him at his home after his recovery, we found a man glowing with joy from within, anxious to share his home-grown coconuts with us.
Thank you for being a part of bringing sight and the Light to so many.